At a gala banquet at the Grand Lake Lodge, Penny Hamilton, owner-broker of Forest and Lake Real Estate Company, Granby, was awarded "Grand County Realtor of the Year" for 2005.
It's an annual award that honors realtors for not only professional achievement, but for devotion to volunteerism and overall community involvement.
The award was presented to Hamilton by Paul Lewis, owner-broker of Coldwell Banker Mountain Properties in Winter Park, who was last year's Realtor of the Year.
"Penny is involved in so many community betterment projects that the list is too long to recite," Lewis said. "She sits on the board of the Greater Granby Area Chamber of Commerce and the Grand County Board of Realtors.
"We had many worthy nominees because so many of our Realtors devote hundreds of hours to public service," Lewis continued. "They are truly the unsung heroes of our community. But Penny Hamilton's long, long list of community achievements and activities made Penny an outstanding choice for this important award."
In nominating Hamilton for the Grand County Realtor of the Year, Tracey Chambers, a broker-associate with United Country Real Estate Central, outlined Hamilton's "long, long list of community achievements" in a narrative. Chambers wrote:
"Three words describe our 'Dr. Penny,' – positive, energetic and enthusiastic. Those attributes make her a tireless worker.
"She doesn't just talk-the-talk, she actually walks-the-walk. While she has more degrees than a thermometer, that doesn't stop her from getting her hands dirty and breaking finger nails.
"As our nominating committee approached our submissions deadline, our biggest problem was getting Penny to sit down long enough to list her history of community involvement. But here is a partial list:
"As a pilot who co-holds a world aviation speed record, one of the first things she did, even before she and her husband moved full-time to Grand County in 1992, was co-found the Grand County Aviation Association and the Friends of the Granby Airport, Inc.
After getting the IRS 501(c)(3) status for the Friends of the Granby Airport, Inc., she served as its secretary for nine years. Each year, she participates in the annual airport clean-up, fix-up day and helps when the Colorado Chapter of the 99s (women aviators). She also serves as the Granby Airport Support Network Volunteer for the Aircraft Owners and Pilots Association (AOPA).
"Recently, Penny served as the local coordinator/hostess for the spring conference of the Colorado Airport Operators Association (CAOA) held at the Winter Park Mountain Lodge.
"But when Penny first came to Grand County," continued Chambers, "she noted the County animal shelter was under staffed. So, Hamilton co-founded Grand County Pet Pals and brought new energy to Pennies for Pets. She wrote grants resulting in a computer and adoption-management program at the shelter and more funds to support its activities. She worked on the 'Pet of the Week' newspaper feature and, with the help of newspaper editor Patrick Brower, made it a reality resulting in the adoption of literally hundreds of pets that, otherwise, might have been euthanized for lack of timely adoption.
"In 2003, sensing our local law enforcement officers are under-appreciated, Penny initiated, with the help of Sheriff Rod Johnson and former Deputy Sheriff Glen Trainor, a program that has, so far, expressed a community 'thank-you' to 12 law enforcement officers with emphasis on making those without families here feel at home in Grand County.
"Penny donates her time and/or contributes financially to the Grand County Council on Aging and the Senior Diner Program; the Grand Foundation, the Granby Rebuilding Fund, the Grand County Food Banks, the Grand County Events Center, the Grand Youth Experiential Adventures, the Samaritan Center and the EAA Aviation Student Scholarship Project.
"She was a founding member of the Grand County Business and Economic Development Association (BEDA), drafting its initial grant application for start-up funding, helped recruit other board members, served as the BEDA volunteer executive director but credits Jana Huse for doing all the heavy lifting for BEDA.
"Currently, she sits on the board of the Granby Chamber of Commerce where she coordinated the welcome center for Ride the Rockies, helped raise funds for the Chamber's Spring Golf Tournament and was actively involved in getting funds for the Granby Community Relief and Rebuilding Project. Penny has recruited the judges for the Fourth of July Parade and assisted the parade announcer with local information. On the Grand County Board of Realtors, she served as Outreach Chairperson to raise scholarship funds for local students and assisted with the food and back-to-school supplies drives.
"As part of her Granby Chamber volunteer work, one of her favorite activities is nominating local heroes for various recognition programs. So far, several of her nominees such as: Lorene Linke, Carl Marsh, Kenya Marte, Kadie Huse and Susan Masterson have been honored in special ceremonies held in the Governor's Mansion for the Colorado Cares Awards.
"In addition, she nominated, now Winter Park Police Chief Glen Trainor for awards related to his heroic actions during the Granby bulldozer rampage of June 4, 2004. One award for Chief Trainor will be presented soon, and another is still pending.
"In connection with the Granby Centennial, Penny is doing research and about to author: Granby: Then and Now (1905-2005) A Quick History of Granby, which is scheduled to be available for readers on or about December 9, 2005.
"How she finds time to do all she does is a mystery to me," Chambers continued. "Especially, when you know that she and her husband co-author a series of thrillers such as The Grand Conspiracy and The Panama Conspiracy (written as William Penn), plus two more novels in the 'conspiracy' series. But I also know all of these community activities, plus running her own real estate company and taking time to mentor younger real estate agents cuts into her leisure-time activities – assuming she has any leisure time. But one summer, she and her husband found time to teach me to sail on Lake Granby. "For sure, she always finds time for Bandit, their Old English Sheepdog, and for working with Old English Sheepdog Rescue."
Gary Glenn, the broker-owner of Prudential Winter Park Realty, summed up the important roles realtors have in the local economy. Moreover, why each year, dedicated, community-oriented brokers are recognized as such.
"As past president of the Colorado Association of Realtors and having received the Grand County Realtor of the Year Award myself," he said, "I know how important it is for Realtors to be involved in our community, and to be hands-on, proactive in community projects.
"Real estate is such an important economic engine that creates so many jobs that it is vitally important for the agent-brokers to give back to the community by volunteering and donating their time to improve the quality of life of our full-time and part-time residents."
And from her long list of community involvement, Hamilton has certainly done just that.
Sky-Hi Daily News - Article Friday July 18th, 2008
Local Realtor, Penny Rafferty Hamilton, was recently recognized by the National Association of Realtors (NAR) "Good Neighbor" program for her community service to the Grand County Business & Economic Development Association (BEDA).

BEDA President, Sharon Brenner, presented Penny with the NAR Certificate of Appreciation. "Penny was a volunteer founding member of BEDA and wrote the very first funding grant which helped launch BEDA for our community," Brenner explained.

"Penny also volunteered to be our very first Executive Director. She even designed the business cards to introduce BEDA and our mission," Brenner continued. Grand County BEDA's mission is to promote commerce in Grand County and help local businesses succeed through cooperation, support, networking, Improvement grants, education and attracting new employers and employees to Grand County.

BEDA provides education and support for existing and new businesses throughout the year. They also service as a resource for relocating businesses to Grand County. Business Improvement projects are supported through low interest loans and grants. To learn more about the Grand County Business & Economic Development Association visit their web site at www.gcbeda.com
2009 Denver 7 ABC Television Every Day Hero Winner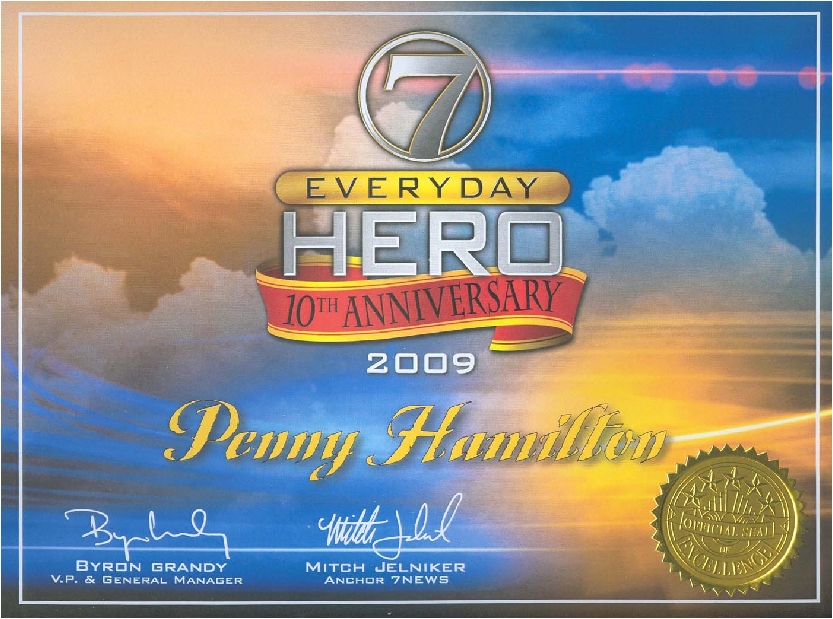 Granby Pilot and Volunteer in the News (2009)
Recently Colorado GA pilot, Penny Hamilton of Granby, was awarded the Denver, Colorado ABC Television award for outstanding volunteers, 7 Everyday Hero, during her Granby Library Pre-school Aviation Education program called "Penny The Pilot," where she is dressed as historic aviator Amelia Earhart.
The 7 Everyday Hero award is presented to Colorado volunteers who motivate others, make a difference, and donate their time and talent to build a better community, often over an extended number of years.
Penny has a long history of community involvement spanning over 20 years in her Greater Granby area of Colorado. In 2005, she was recognized as Grand County Realtor of the Year for her public service and charitable work. In 2009, Penny was also awarded the Colorado Association of Realtors Good Neighbor award for her volunteer community service.
Hamilton is a member of the Colorado Pilots Association, Colorado Aviation Historical Society, Wings Over the Rockies, 99s, Founding member and current volunteer Secretary of the Friends of Granby Airport, AOPA Airport Support Network Volunteer for Granby/Grand County Airport and past winner of the FAA Central Region Administrator's Champion award for her work on behalf of aviation education.
In 1994 the FAA named a new holding intersection just south of the Granby airport at an altitude of 15,500 feet above sea level for her. Because "penny" was already in use in another part of the airway system, the FAA computer found "Penny" available and is now shown on current aeronautical charts.
For several months, the Everyday Hero Award link from ABC-Denver 7 broadcast with anchor, Mitch Jelniker and "Penny the Pilot" at the Granby library aviation education program will be available to see the television broadcast on-line is http://www.thedenverchannel.com/7everydayhero/19942663/detail.html
2010 Greater Granby Area Chamber of Commerce Lifetime Achievement Award


March, 2011-Friday, March 25 was the Greater Granby Area Chamber of Commerce's annual meeting. Held at Remington's Restaurant, it was a great gathering of Chamber members with time to connect with other business people. The annual report, election of board members and annual awards were entertaining with just the right amount of information. Sharon Brenner, President/CEO
Greater Granby Area Chamber of Commerce Congratulations, Penny!.
Penny Hamilton, Lifetime Achievement Award
Now and then someone comes to the forefront as the nominating committee begins looking at award winners. This year Penny Hamilton, nominated both for Volunteer and Business Person, was clearly one to consider for the Lifetime Achievement Award.

Penny, married to Bill Hamilton, has given of her time and knowledge since they moved to the area. She received the Realtor of the Year Award and Channel 7 Good Neighbor Award as well as several Aviation awards and recognitions. She helped start BEDA and Pet Pals and works closely with Friends of the Airport and the library. She has authored or co-authored history books and fiction books based in Grand County and is the number one cheerleader for women in careers uncommon to women